IFSEA CERTIFICATIONS LEAD THE INDUSTRY
click here to join the linkedin certification group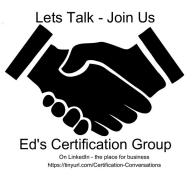 Our certification program has our MOST prestigious level, MCFE;
plus CFE, CFM and adding a new one, CFA for students.
The tests are progressively more difficult from CFA up to MCFE.
IFSEA is responsible for preparing, administering and scoring the academic tests on subject matter including food service management, food safety, HACCP, customer service,
purchasing, storage and more. They are progressively more math oriented.

TESTIMONIAL FROM THOSE WHO GOT JOBS - RAISES - MOTIVATED
CERTIFICATION TEST REVIEW BOARD - Select to see who they are!IFSEA's
The Certification Test Review Board is comprised of chefs, managers and owners of:
The Sardine Factory (Monterrey), Aramark (Rhode Island), DoubleTree/Hilton (San Francisco), HCA Healthcare (Austin, TX), Bay Colony Golf Club (Naples, FL), Vick's Vittles Restaurant & Air Force Base (Albuquerque), and Safe Culinary Operation Restaurant Education (New Orleans).
All require only passing the test (the same is true of the ServSafe test, no experience is required) and your prospective employer, rather than IFSEA, can determine how much industry experience needs to go along with your
certifications, for the specific job, and industry segment, you are applying for.
There are two points to the resume - education and certifications, and experience.

Sometimes the employer wants experience, but many times
they want a smart go-getter they can teach and mentor to their specific needs
What is expected of someone who is IFSEA certified?
They were motivated to building a professional portfolio. Through the process of study and testing, they logically know more than someone who did NOT have this experience. They know more and are better prepared for work than they were before they got certified. They are proud, and they know more is expected of them. Not everyone who graduates from an elite culinary school, as an example, is a great chef, but they established that when they get to a job, they are motivated to learn and grow in their field.
The Cost:
$199 for MCFE, CFE or CFM and $99 for CFA.
Bulk pricing available for schools for CFA, as low as $69.
We suggest going for MCFE - 70% is passing, 65-69 earns you CFE, 60-64 earns you CFM.
Note to nursing home and senior living professionals earning CFM works for accreditation to manage the facilities.
to qualify for another certification. Why not take the MCFE test, and when you pass
we will give you both MCFE and the program approved CFM, no added cost.

For questions, contact IFSEA Certification Chairman, Ed Manley, MCFBD, MCFE.
Email ed@ifsea.org or contact HQ at hq@ifsea.org or 855-268-1367. Thank you!
FIRST - Pay using the BUY NOW button.
The receipt will have your test access code - write it down.
SECOND - The certification logo takes you to the training slide show and the test.
IMPORTANT NOTES
CFA - Although anyone can take it, CFA is aimed at
high school students or recent graduates. Subjects covered are food safety, HACCP, food service management, culinary nutrition and culinary terminology. All of the 80 questions come from certification tests on the same topics, which we use for CFM, CFE AND MCFE.
CFM - For nursing homes and skilled care facilities, the Food Director MUST be an RD, or CDM or CFM. The quickest and least expensive of those three is IFSEA's CFM. One company is getting CFM for all 500 of their facilities.
If you don't already have your test access code (CFM only) you must send an email to ed@ifsea.org to get one - thank you.



See the guidelines - Procedures - information
CREDIBILITY OF THE TESTS AND QUESTIONS
For educators, the 5 PowerPoint training programs, with over 600 slides from our Partner GFI's test bank for Food Safety, Foodservice Management, Culinary Nutrition, Culinary and Customer Service.
From those, you can build a very robust curriculum
to fulfill the requirements of your school system.